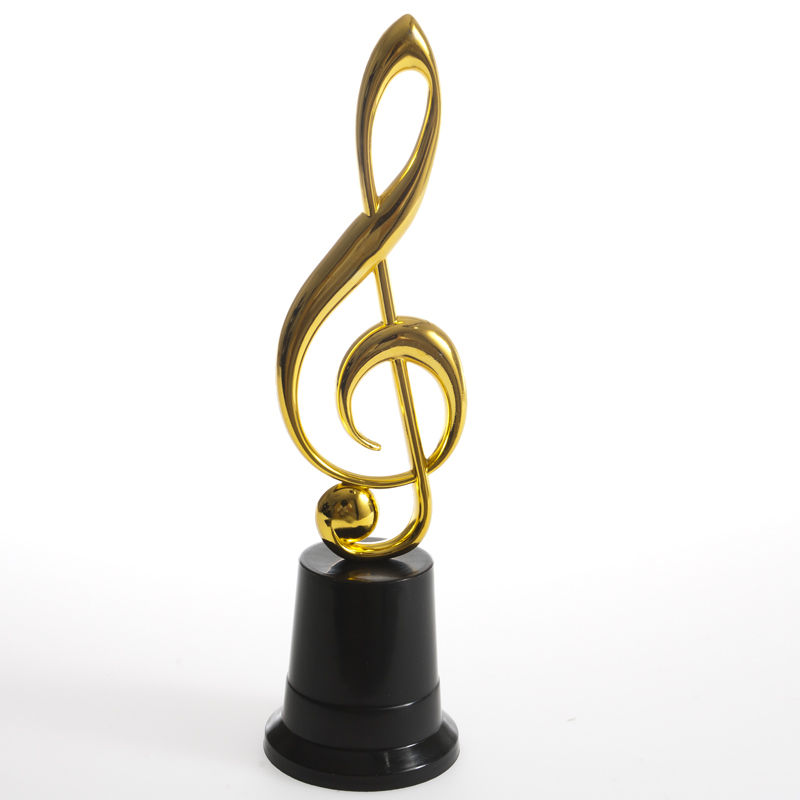 2021 Music Student Recognition Award Winners
Announcing the winners of our 2021 Student Recognition Awards - this is our annual program which

recognizes Highland students' musical accomplishments and provides them with monetary assistance ($100) to continue to develop their musical interests throughout the school year or the summer.




This year's winners range from 4th - 12th grade:




Ava Acampora (voice - alto)


Peter Bender (trumpet, guitar)


Arianna Cherry (trumpet)

Marcelo Cuya (piano, trumpet)


Emily D'Ambrosio ((flute)

Zachary Haeser (trombone, piano)


Mia Sharp (voice - alto)


Maddox Thibault-Edmonds (percussion, piano, ukelele)


There will be an awards gathering and performances at our booth at the Lloyd Spring Market on May 15th, at noon. Additional student performances will be at 3:00. (And other fun activities at our booth all day!)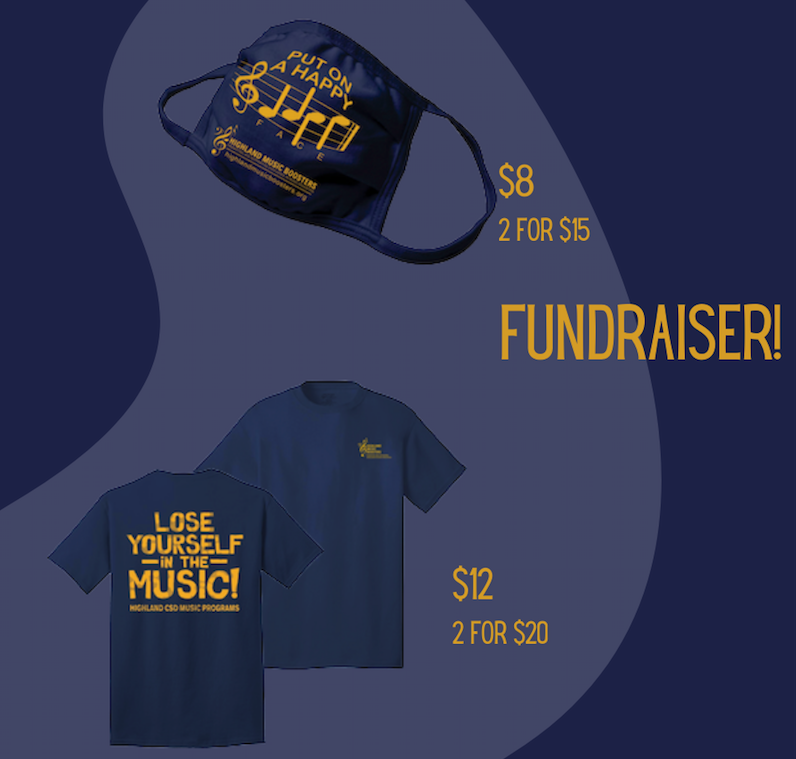 !! PUT ON A HAPPY F-A-C-E !!
To purchase face masks and t-shirts, provide quantity, email, and phone # in the

Contact Us

form on this website or on Venmo payment description. We will contact you to arrange pickup.
T-shirts available in adult L and XL only. Masks are one size, with adjustable ear loops and nose wire. More info in our

News

section.
Venmo: @Highland-NY-Music-Boosters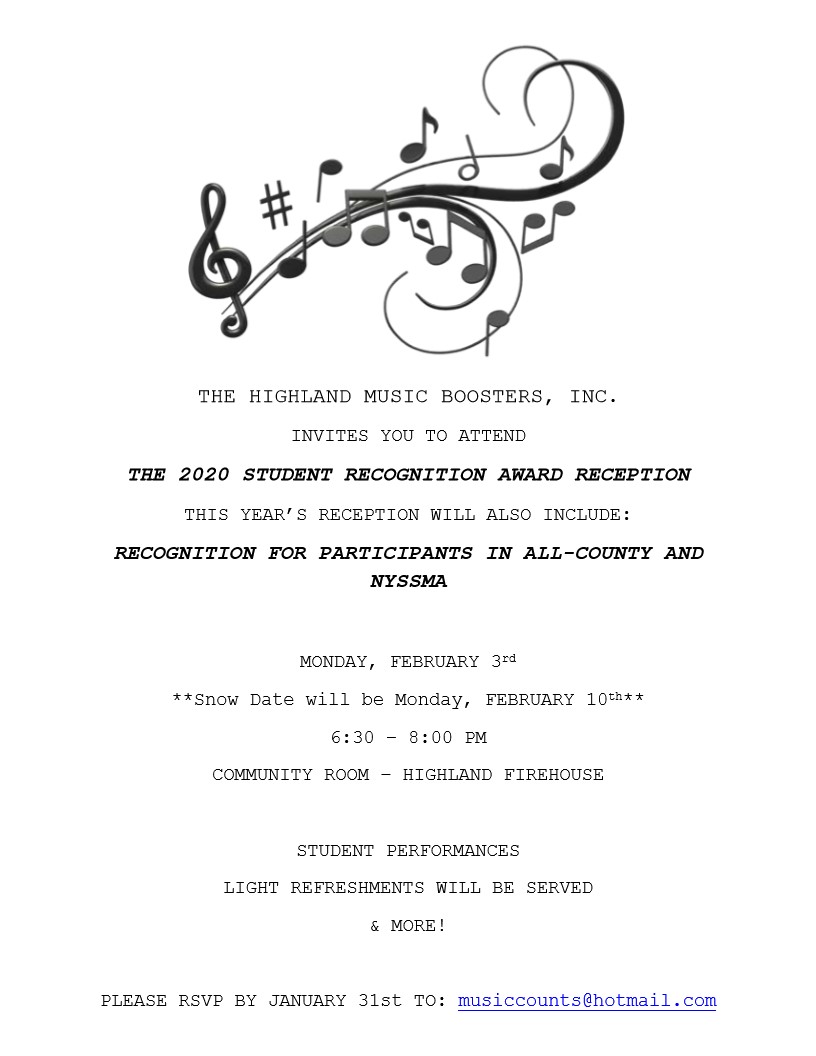 Dear Members of our Community:
On behalf of the Highland Music Boosters, Inc. thank you for your continual support of music education, and understanding that it is an essential part of every child's education, no matter the personal circumstance.
Our Recognition Awards are just one of the ways in which we have been able to enhance this common goal.
Our 2020 award recipients have been selected. They are: Scarlet Lovell - Elementary
Sadi Roloson - Elementary Alexander Papazov - Middle School
Lena Tran - Middle School
Minh Tran - High School
Benito Vargas - High School
Please accept the attached invitation to our upcoming Recognition Awards Reception. If possible, we would appreciate your help with the following:
Our reception is also an opportunity to recognize student participants in All County and/or NYSSMA (medals to be distributed at the spring concerts). Due to privacy laws, we are unable to get the necessary information for personalized invitations to be sent to all these participating students.
Thank you, and we look forward to seeing you on February 3rd.
Respectfully,
Executive Board Members of the Highland Music Boosters, Inc.
Randie H. Ratick
Joe Avampato
Beth Mugler-Vargas
Sharon Spaulding
Jessica Avampato
Stuart Weiss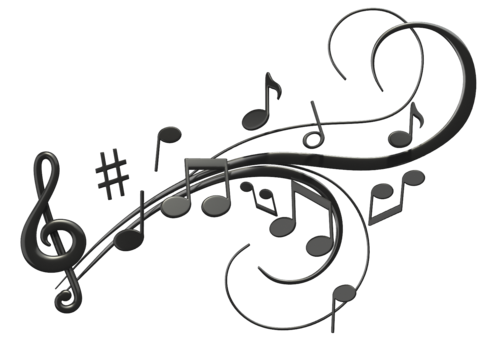 Please join us in thanking these local businesses for taking out concert program advertisements in support of school district's music programs:

A Day In The Shade
Accent Communications
Accent Financial Group
Active Automotive
Autos by Joseph
Bark Place
Dolphin Plumbing
Hair by Shelley
Hard Roll Deli
Hudson Valley Sausage Company
Lakeside Licks
Madeline's Dance Center
Open Doors Educational Service
Quinn Real Estate
Sawyer Savings Bank
Stuart Weiss – Attorney at Law
Tax Time
The Kiltmaker's Apprentice
The Peterson Studio
The Would Restaurant
Torsone's Funeral Home
TRC Auto
Vails Gate Cleaners
Verlise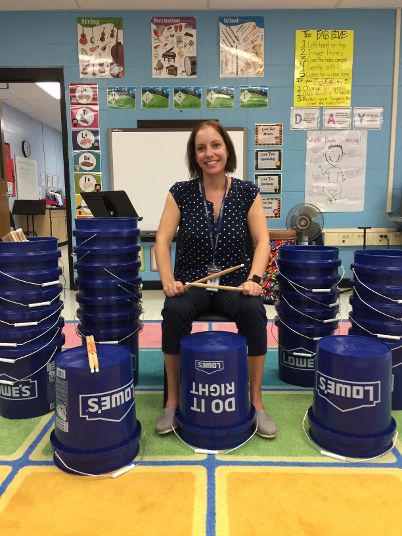 EVERYONE in Mrs. Adamecs' general music classes will now be able to learn AND experience music through drumming, using these 5 gallon buckets donated by Lowes in Highland and drumsticks purchased from Jacobs Music at a greatly reduced price. Thank you to these local businesses for their generosity and continued support of our organization and school music programs.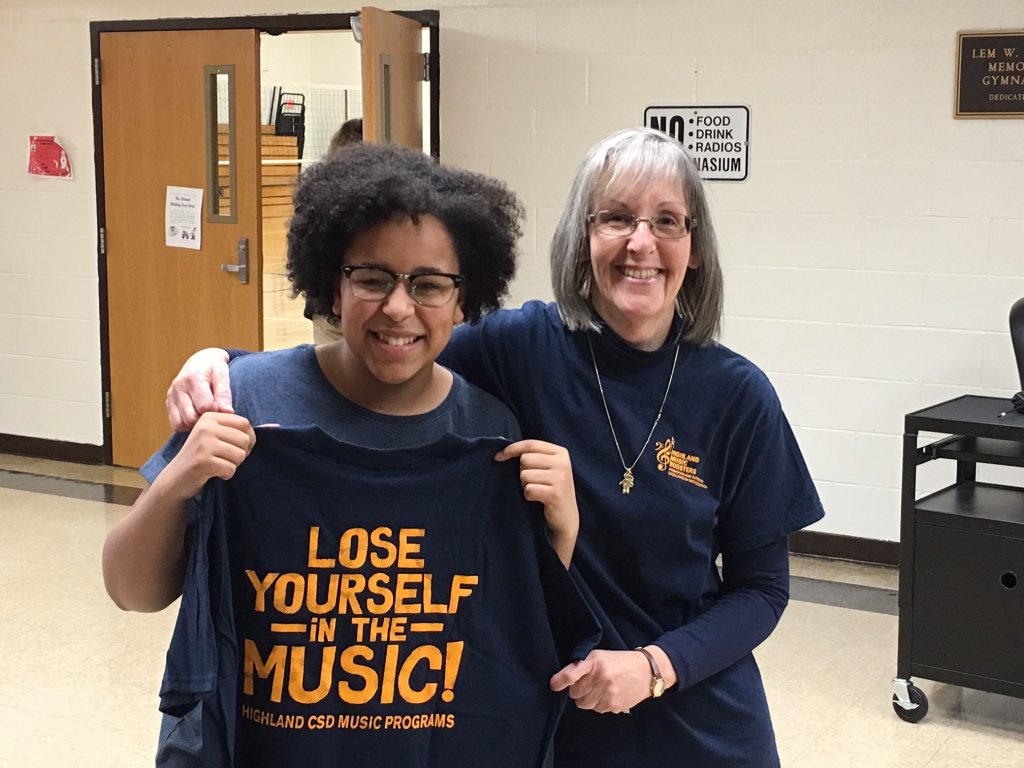 These shirts, for all band and choral members, district wide, were made possible by the generous monetary donations of

local businesses and individual members

. A complete list of donors can be found under community support.
Additional information on how to become a donor can be found on our community support page.
Tee shirt are available for purchase as well.
All proceeds go directly back into the programs we support.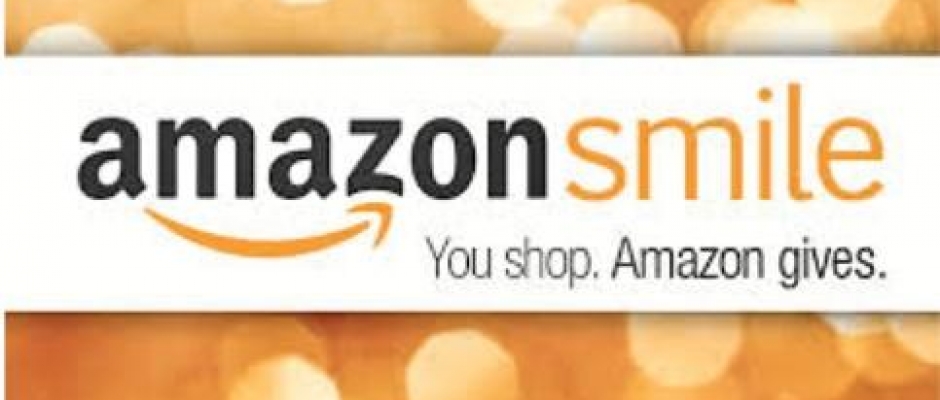 Do you shop on Amazon.com? The next time you shop online, please log onto
www.smile.amazon.com
to help raise funds for the Boosters. Simply select Highland Music Boosters as the charitable organization you wish to support-- if you have an account with Amazon, all of your information carries over (including Amazon Prime). AmazonSmile is a website operated by Amazon, and will donate 0.5% of the price of eligible purchases to the charitable organization selected by customers.
The Highland Music Boosters is a 501 (c) 3 not-for-profit organization that partners with the Highland Central School District in Highland, NY. Our site is designed to provide you updated information,necessary forms and an additional way to contact us.
Here are some of recent updates and important information, We hope you will find this helpful.
How do I become a member?
​
2019-2020 Membership Cards(w/local business discounts) are now available!
Membership is FREE for ALL Highland residents
Cards will be available at the following locations:
All upcoming open houses
Highland Public Library
Town Hall
Top 5 reasons why music is a "sound" investment for our community
Success in School – Music keeps students interested, motivated and actively engaged. Various studies have shown a correlation with participation in music to increased rates in attendance, increase in SAT scores and an increase in graduation rates.
Emotional Development – Music increases empathy towards others and other cultures. It also helps in increasing levels of self-esteem, responsibility and coping with anxiety.
Productive Member of Society - Music helps to shape character and is a universal force in bringing everyone together.
Preparation for 21st Century Workforce – Music increases development of creative thinking, problem solving, teamwork, communication, leadership and collaboration; all vital skills for today's workplace.
Value to Overall Economy – Music programs offer long term fiscal value to our school district. (Music personnel instruct the largest number of students in a given class and/or have a higher teacher to student ratio). Music can spur growth in a community by creating jobs, increasing the tax base and boosting tourism.

Your PARTICIPATION is VITAL
Please consider any of the following:
Donor Campaign (see attached letter for complete details)
IBM Employee Charitable Contribution Campaign – If you or someone you know is employed by IBM, they can select our organization for their contribution.
AmazonSmile – If you or someone you know shops with AmazonSmile, they can select our organization and we will receive .5% of every total purchase amount.
Attend a monthly meeting – All meetings are generally held the first Monday of every month (7PM) in the Elementary School Cafeteria.
Join a committee and/or serve on our board
Volunteer – Help is always needed at concerts, open houses and other special events
Stay informed – Like us on Facebook, follow our webpage and contact us anytime at: ⦁ musiccounts@hotmail.com.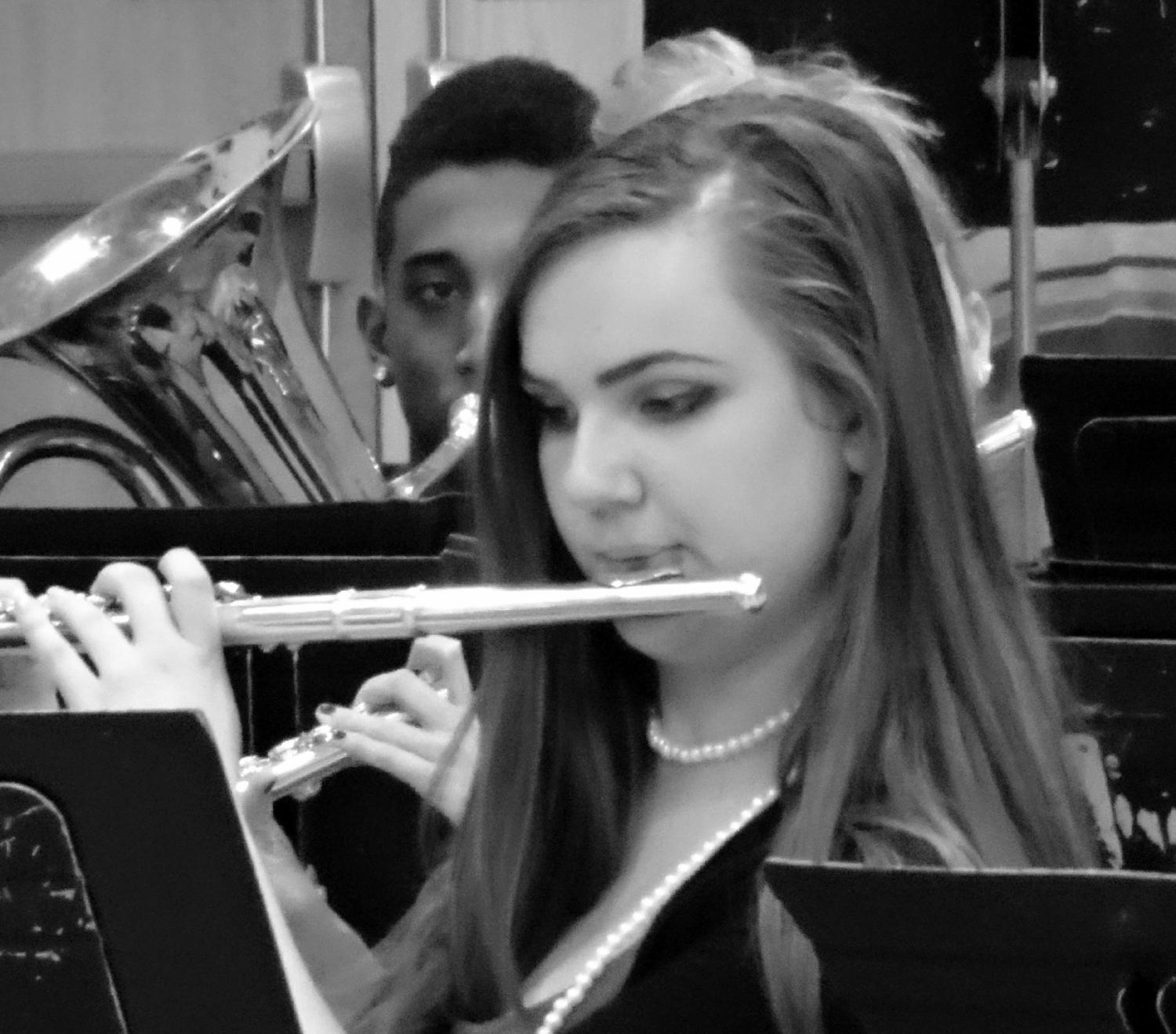 "As you begin to realize that every different type of music, everybody's individual music, has its own rhythm, life, language and heritage, you realize how life changes, and you learn how to be more open and adaptive to what is around us." -- Yo-Yo Ma